Try a Sample Intensive Journal® Exercise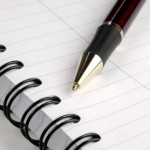 Now you can begin to experience how the Intensive Journal® method works through a sampleexercise. It is important to do the exercise in a setting of complete silence, with a pen and paper (not a computer), when you can relax and take your mind off your daily life. Record what comes to you; do not edit or censor. Write the date at the top of the page and the name of the exercise, "Period Log." You should allow about 45 minutes to complete the exercise.
Describe the "Now" period of your life; an open ended period that has a beginning but no ending. Examples include: three years since you moved to a new city or started a new job.
Record your thoughts, feelings, memories – whatever presents itself to you. Complete the phrase: "It is a time when…."; record images that describe the period.
Describe more details about this period: people, projects or activities; your health; attitudes about society; important events; dreams or imagery; people who inspired you; and choices or decisions you made.
Read back what you have written and record any thoughts and feelings that you have during this process of writing and reading back.
Through the Period Log exercise, you are beginning the process of reconnecting with the many different aspects of your life from which new perspectives and opportunities can reveal themselves. [hcshort id="8″]Posted on: 06/08/2013, by : Able I Am